Toilet Repair and Installation Service
Is your waste not going down the toilet as it should? This can perhaps be the most frustrating of all plumbing issues.In such cases we strongly recommend to contract a certified and experienced plumber with the necessary skills to restore your bathroom. You are in the right site because we collaborate with the best toilet experts across Cardiff. So in case your toilet starts malfunctioning in the middle of the night or early in the morning, please reach out to us, and we'll assist you to fix it. We are there whenever emergency Toilet Repair and plumber needs arise. The toilet repair plumber will come at your destination and will make an assessment of the type of occlusion, then will repair the problem.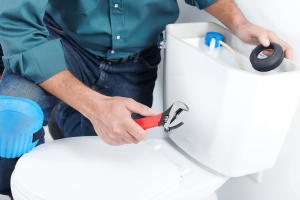 Clogged Toilet in Cardiff
A blocked toilet can indeed create a severe discomfort for you and the entire family. In fact, there are many cases that can cause this problem. For instance, over the years, the pipes that make up the discharge of waste water tend to get dirty, have problems with deposits and therefore not to allow the dispersion waters to flow properly. As a result, you can have a serious problem at home because there is a risk of flooding in the bathroom. Also, not to mention the return of waste water in the toilet and the unpleasant odours.
Cardiff plumbers 24h are at your disposal at any time to intervene quickly and perform toilet installation and repair in a workmanlike manner. The toilet installation service will be carried out in a professional manner, based on the size of the bathroom.
The technicians can also repair the following toilet-related problems:
– Low or high water pressure which makes it impossible for you to eliminate waste when you flush
– Leaking toilet either at the bottom of the inlet pipe
– Broken toilet parts like the handle or cistern
– A toilet that keeps moving around at the base when means that the toilet installed did not correctly fix it at the bottom
– A foul odour coming from the toilet which could be embarrassing
– A problem with the inlet pipe which could make water unusable to get to the cistern
– The cistern being unable to regulate the flow of water by automatically stopping the inlet when full