Water overflows in Cardiff can either be internal or external. External overflows happen when your area suddenly experience a storm, causing roots, leaves, roots or tree branches to block your external drainage. Whereas, internal overflows happen in sanitary plumbing system that removes wastewater from your premise. Generally, an overflow happens when the plumbing system is blocked. Because of the blockage, when you flush the toilet, the water will go nowhere, so the toilet bowl will overflow. Also a blocked lateral pipe can lead to overflow. The water from the estate flows down the side and the water has nowhere to go due to the blockage, so it overflows the floor drain or a bathroom at a lower level causing harm.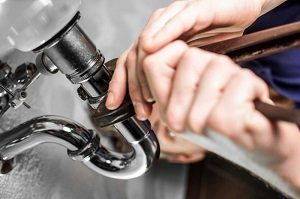 Plumbers in Cardiff
Have you suddenly noticed a continuous trickling of water hours after flushing the toilet? Does your main storage tank overflow with water which starts pouring out? Is your drainage suddenly bringing water up the pipes to your house? Then, you might have an overflow problem, you need an expert to handle repair and installation of overflows in plumbing and sewage systems in Cardiff. Surely, any problem regarding overflows must be promptly investigated and resolved because if they stay too long, may impact negatively your home. Consequently, leading to structural problems, which can become incredibly difficult to repair.
External overflows can encourage the breeding of insects and they can also cause the diseases. On the other hand, internal overflows occur in places like bath tabs, toilet cisterns or water tanks and can lead to a massive wastage of water as water is continuously pouring out of storage. Therefore, as soon as you notice an overflow issue, call us, and we will connect you with a plumber that will come to your property as soon as possible to amend the problem.